The model 13/007 and 13/008 capacitor modules have been designed to be connected to the DC-BUS of the IGBT converters produced by Alter Elettronica or other manufacturers, always respecting the technical characteristics indicated on the nameplate.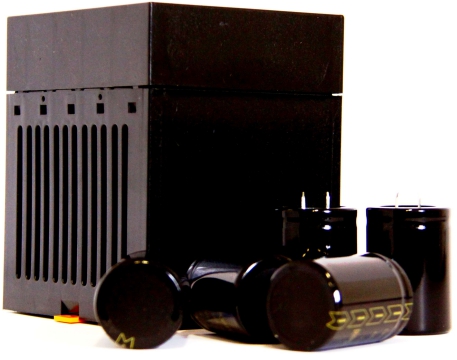 Technical features
Execution for panel fixing. Degree of protection IP20.
Operating ambient temperature: from 0 °C to +40 °C.
Storage temperature: from -10 °C to +70 °C
Maximum relative humidity: 95% without condensation.
Maximum altitude: 1000 m s.l.m.
Connections: 6 mm2 braided copper cord in red and black, about 50 cm long.
Panel mounting on omega rail (weidmuller type).
The capacitor modules can be useful in these situations:
The motor has continuous accelerations and decelerations and the internal clamp resistance overheats, sending the drive to alarm.
For energy saving purposes, the intervention of the clamp resistance is to be avoided as much as possible and it is necessary to accumulate as much energy as possible during the deceleration of the motor so that it can be used in normal operation.
Due to heavy use of the motor, the capacitors mounted inside the drive overheat, sending the inverter to alarm.
Versions
The capacitor modules are available in two versions:
Module 13/007: maximum voltage 900 Vdc and capacity 1410μF.
Module 13/008: maximum voltage 450Vcc and capacity 5640μF.